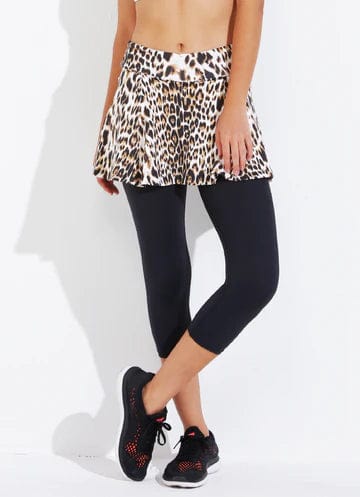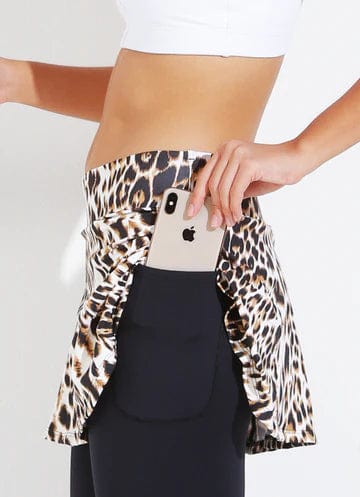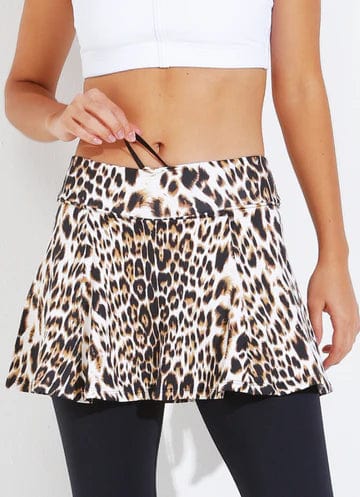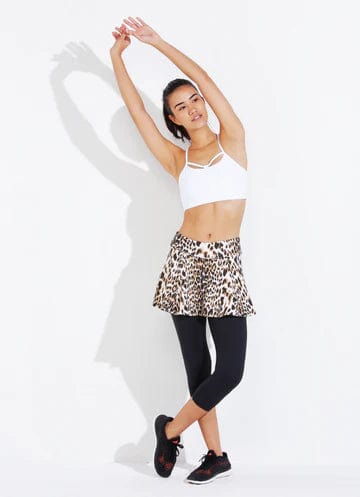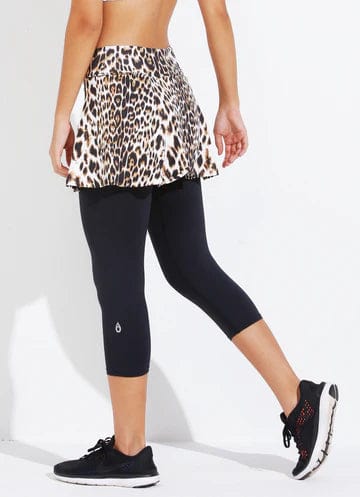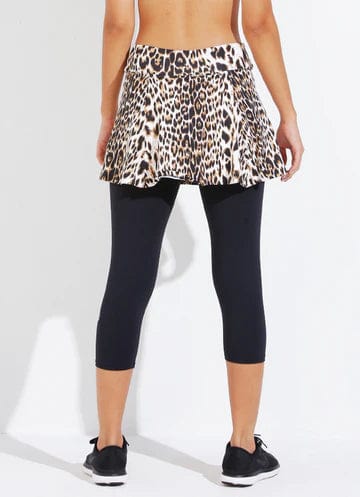 Dona Jo Women's Skirted Capri ECO (Cheetah/Black)
MATERIALS
14" skirt length
A-line shape
Made with Light® 4-way stretch material
Lightweight, breathable and form-fitted
Flat seams for comfort
Adjustable continuous drawstring in waistband
Deep side pockets and ball pockets on interior capri
Lower pocket for tennis ball
UVB protection 50+

PREMIUM FABRICS

Extreme Comfort

Effortless style? Yes please! Our Skirted leggings and capris were designed to be easy to wear. Whether you're running, playing tennis, grabbing groceries, or enjoying some good old fashioned R&R at home, the 4-way stretch of our durable nylon fabric will keep you comfy all day long. Throw in a flattering medium rise waistband and pretty, feminine design, and you'll always be a contender for best outfit.

FUNCTIONAL UNDER SHORTS

Convenience & Support

Say goodbye to tucking your phone into the waistband of your athletic wear and hoping it stays put. Our skirted leggings and capris feature functional deep side pockets so that your personal items are always within reach. The comfortable flat seams and form fitting fabric are designed to move with you, so whether you're at home or on the go, you'll always be covered.

BREATHABLE PERFORMANCE WEAR

Sweat Wicking Technology

Think one fabric can't have it all? Think again! The sustainable nylon we use in our skirted leggings and capris isn't just stretchy and stylish -- it's functional, too. Made with Dry Fit technology, our breathable performance wear wicks sweat away from your skin to keep you cool and comfortable all day long.

MADE WITH LOVE

Made Sustainably in Brazil

Lots of love goes into making our performance athletic wear. We love sports. We love style. And we love the planet, too. That's why the fabrics we use in our products are biodegradable and toxin free. Our goal is to have the smallest environmental footprint possible, so we're always looking for new ways to improve our manufacturing process and give back to the community.